2023ko uztailak 19 Mixtape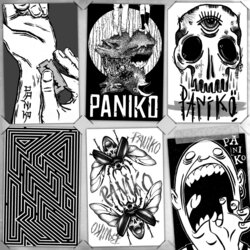 Saio honetan talde hauek entzungo dituzu:

PANIKO - miedo
BRAIN STORMING - morte u.s.a.
STALINGRAD que podemos esperar
AGUA BENDITA - no te kortes
MONKS OF SCIENCE - another way
CPG - ?ll egy ifj?
VA-A COMPILATION OF DELETED DIALOGUE - who killed the golden goose
BLACKFIRE - indian corn song
RUEFREX - by the shadowline
nazi scum
DECADENT FEW - heaven to hell
PORNSCARS - the ballad of abe sada
CPG - atom b
CRAN - stalingrad
SONS OF ISHMAEL - follow the leader
TROIKA - ego
ATV - 09you bastard
SCHWUND - kiezchecker
REVENJA - runa i cendra
THE SCREAMERS - thru the flames
EPILEPTICS - system rejects
CASUALTY - challenge
PASO A PASO - grandia
MALSONADO AND METRALLA - quiero ver la luz
THE OFFICIALS - work
SA - 08 kontra la agresion kastrazion
HEIDEROOSJES - d-heideroosjes-world
TROPIEZO - canciónresignación

Hurrengo arte eta ez ahaztu ...


Cómo te atreves a decirme
que al mirarme te entran ganas de violarme

Acaso te crees muy gracioso
con esa mierda a la que tú llamas piropos

No vuelvas a mirarme
No vuelvas a incomodarme

En todo lugar y momento
quiero sentirme libre y sin miedo,
no te creas un ser superior,
sólo eres un maldito cabrón.

Tus palabras me hacen daño
tus miradas me hacen daño

Muerte, muerte
Al violador
Muerte, muerte
Al agresor.


... PANIKO taldearen ideia bat da.