2023ko maiatzak 05 Mixtape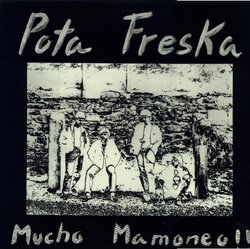 Saio honetan talde hauek entzungo dituzu:

POTA FRESKA - mucho mamoneo
ORREAGA putakumeak
+TURBA2 - a golpes de porra
KAMATTIS - butthead
FRESHLY RIOTS - enemy
ABBRUCH - mensch
SEXY MINORITY - punx uniti
MAID OF ACE - dirty girl
TUNNEL RUNNERS - words
DEF CON DOS - duro y a la encia
BOIKOT - tal vez
ERIEZA ROYAL AND THE SUMMARY LYNCH - punk girls
BAHNHOF - presage
STRATFORD MERCENARIES - no more running
M.C.D. - popatik hartzera
DAYGLO ABORTIONS - kill the hosers
PRIMEVAL SOUP - identity crisis
ONE BY ONE - you are the key
MEINHOF - islamic rage
CHINAS COMIDAS - criminal cop
JUST A PRODUCT - youre gonna live alone
MORBID OPERA - 01 liar
NATIONS ON FIRE - new hope for a dead scene
R.I.P. - ultima generacion
COCADICTOS - salve a tu nacion

Hurrengo arte eta ez ahaztu ...


Solo hay curro de policia
Solo hay curro de militar

... POTA FRESKA taldearen ideia bat da.